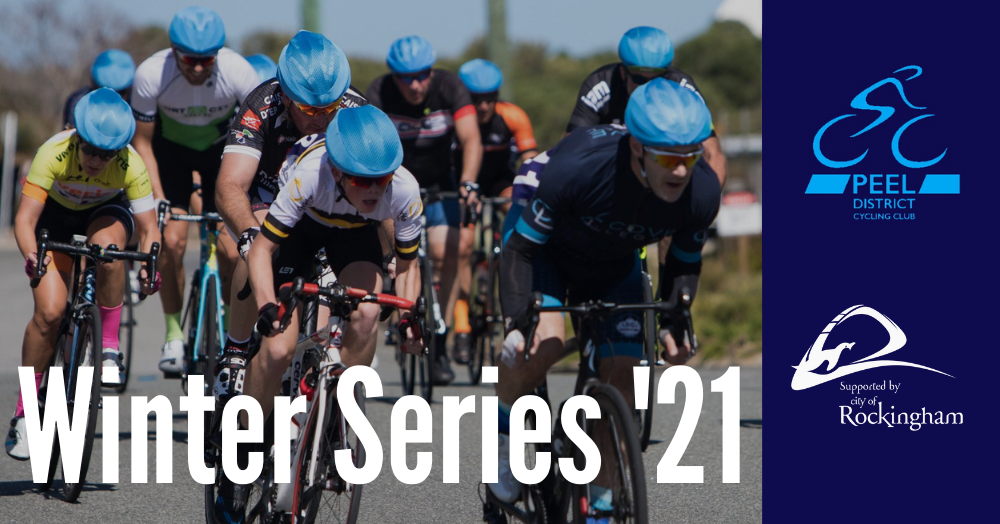 We are very close to starting our 2021 Winter Series with the first event planned for next Saturday 8 May. This Winter we currently have 10 road race events planned.  Our regular club events will be bookended by our premier events the Peel Classic in October, and the Peel Junior and Women's tour in May.
We have three events at the Dog Hill course, three Events at the Casuarina Course, the North Dandalup Handicap in July and the additional 3 events will be at the Perth Motorplex course. 
On Saturday May 22, the Peel Junior and Women's tour will take place at the Perth Motorplex, and on Sunday 23 May are planning to run a 6 hour endurance event on the 5km course at the Perth Motorplex, something new to our calendar, and something we are still building.
Like last year, due to safety concerns, we will be managing very closely the sizes of the bunches on the road courses at Dog Hill and Casuarina. Bunches will be restricted to 30 riders, and like last year, priority will be given to our PDCC members with an option for early entry.
We will offer a specific Women's A grade bunch, however women will have the option of either racing in Mixed B grade, or the specific Women's A grade group. If numbers are sufficient, we will add a Women's B grade event as well. You simply need to nominate in the grade you want to race in identified by the first letter of the grade. (W = Women Only. M = Mixed.) However, like the Summer Series, points will be on offer for separate women's competition within each grade. 
All entries will be managed on the Entryboss system. You can find the event listing here – https://entryboss.cc/calendar/pdcc .Members will receive an email tonight with a registering link for next weeks event, and we will open it up to visitors on Sunday evening like last year. Registrations will close at 7.30pm on the Thursday prior to the events.
Stay tuned for more information, we are looking forward to having another great road season in 2021 (COVID19 Permitting)